A few days back I came across an endearing picture on flicker http://www.flickr.com/photos/krasnayayagoda/5089613485/in/pool-60311583@N00/ and was compelled to attempt to accurately paint it in Corel Painter. It's a far departure from what I've been doing for awhile now, which has been stuff out of imagination, in this case it's a direct study and attempt at reproduction of a pic.
Mostly a personal challenge to develop my technique and keep honing focus. At first glance the pic might seem as if it came off alright, but taking a look at the minutia, a lot of stuff is off, like her cute little hands. It's frustrating to me, I could bloody well still noodle the pic more but this was supposed to be pratice, not a full fledged endeavor, so I better Stop.
Now.
Anyhoo, I included an animated gif because those are fun and educational(I hope)!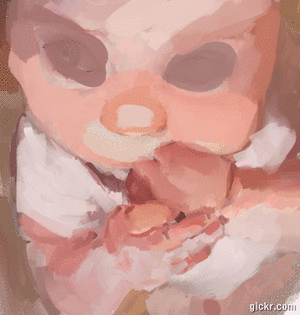 Enjoy guys and as always, your feedback is mucio appreciated.
Branko